The Assessment Challenge
A Rich Seam: How New Pedagogies Find Deep Learning
In the old pedagogy, you measure only content. As long as we keep measuring only content, we are setting students to learn just that. They need to have freedom to expand that content even further and be challenged to come up with new ways to do so. Erika Twani, CEO, Learning 1 to 1 Foundation. A Rich Seam: How New Pedagogies Find Deep Learning
The biggest challenge of new pedagogies and deep learning is the assessment. Here are some good examples of how educators are using specific ways of assessing the impact of the new pedagogies':
The final product is being presented as an outcome of the learning process during which concepts are applied in real-life conditions.
Students take ownership of each other's contributions assessment process.
Organizing public exhibitions of students' final products of their learning process. Such experience prepares students for life beyond school.
"….you have to make work public – it's absolutely critical to have public exhibitions. Standardized scores are not used in the real world."
Learning impacted by deep learning tasks and new pedagogies has too many student skills and capacities to be measured. I would say, it is too difficult to create one general and specific system that could be used for measuring such complexity, containing learning process that may have too many variations of learning a concept. Students collaborate and learn together with other students, teachers are integrating subjects, so the goal, as well as the final product, might change the shape at any time during the learning process. However, ISTE standards often are a solution for assessing students' learning progress in case of technology integration. ISTE standards measure students' deep learning competencies (communication, collaboration, designing, learning, critical thinking, problem-solving, digital citizenship skills) that are necessary for a successful learner of the 21st century.
The effectiveness of the new pedagogies in this research is described as a learning process between students and teachers as partners in learning, that is motivating students for defining clear learning goals that drive students to achieve them by being autonomous learners. The teacher remains a mentor throughout the entire process. During the learning process, students are constantly analyzing their own learning as well as achievements. They manage to master the learning content, that is transferred to a creative process and even more – new knowledge creation, that is very much related to a real-life experience.
"New pedagogies should help students develop over time as independent, autonomous learners able to effectively design, pursue and achieve their own learning goals and personal aspirations as well as master curricular learning goals."
According to John Hattie, "But this doesn't happen by itself". The teacher's role in this process is to teach students to become teachers to themselves. This is an effort and time-consuming process. Students' motivation for learning grows along with the attractiveness of the topic being learned. However, learning and achieving a common goal together might be much more interesting.
Challenge-Based Learning
During the CBL process students are provided with some really big real life-related problems, that encourage students to discover new ways and solutions in order to solve the problem. Such a learning process actively develops problem-solving skills. According to the Challenge Based Learning Implementation Report, young people like solving real-world problems. Such learning is a constant collaboration between teacher and student, that drives them to search and create possible ways of solving real-life problems and even more – take actions by publishing the solutions to a worldwide audience. Just like Greta Tumberg does 🙂 Moreover, students are working in collaborative teams on the research of the related topic, brainstorm strategies and solutions that are credible and realistic.
Augmented Virtual or Mixed reality?
Augmented Reality allows digital elements to appear over real-world photos or videos, sometimes with some limited interactivity between them. This allows students to design a digital object and add it to any real location or object.
The example of one of the projects developed by students at Harvard University demonstrated the opportunities for a great integration of AR in the curriculum. It allows a closer look at the objects of research as well as supplements possible missing elements, necessary for the project.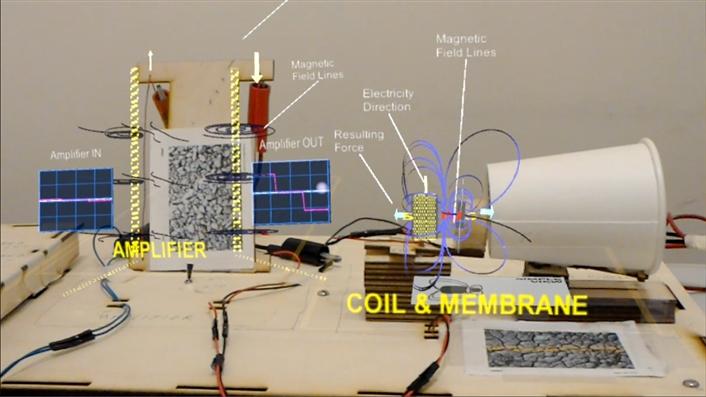 On the other hand, Virtual Reality opens wide opportunities for exploration and traveling around the world. Thanks to Google Voyager we can traveling around the world virtually and without any special equipment. The Google Expeditions app is an immersive learning and teaching tool that lets you go on VR trips or explore AR objects. Explore historical landmarks, go down to the atomic level, get up close with sharks, even visit outer space!
Mixed reality allows the design to combine AR and VR elements so digital objects can interact with the real world ( Interaction Design Foundation)
Gamification
The idea and method of using a game-based implementation in the curriculum for raising students' motivation must be really effective if the game integrated with some of the learning concepts has been built very well. Such method provides student learning autonomy – in order to complete the level and be awarded for that, student has to do an individual research and use problem-solving and critical thinking skills. However, it takes a lot of steps to be thought through. To come up with a good gamification based activity, educator has to follow the include elements listed out in the table below.
For my Final Course 5, I am planning to use Game-Based Learning method. From my very first acquaintance with GBL, I was impressed by the projects of the BreakOutEdu educational platform, therefore, I would like to come up with something similar.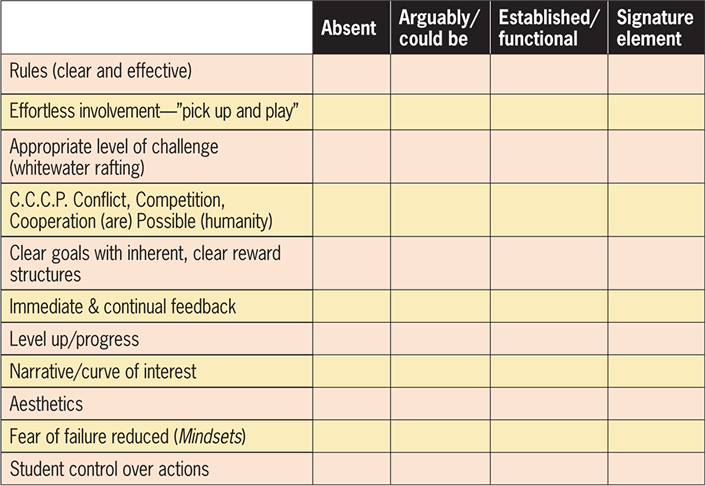 Source: Gameful Design: A Potential Game Changer
Project-Based Learning
PBL Works explains PBL project as a process, successfully developing better content knowledge and improving students' critical thinking, collaboration, creativity, and communication skills. This is a long-lasting project that lasts from a week to a semester, and engages students with real-world problem solving or tasks related to complex questions.
Design Thinking
Design Thinking is a mindset and approach to learning, collaboration, and problem-solving. (Desing Thinking in Education)
The design process as a framework allows identifying challenges, gathering information, generating potential solutions, refining ideas, and testing solutions. Moreover, this process is often cross-curricular and allows students collaboration that includes the steps like discovering, interpreting, ideating, prototyping and testing. It is great that teachers can access a lot of activities, workbooks, and curricular guides provided by Stanford or IDEO.
Blended Learning
BL method of delivery that combines the physical co-presence of teachers and students that occurs in traditional classrooms with the use of digital technology. (Universoty of Findlay)
During the pandemic period, this was one of our teaching methods that supported students learning online as well as those who were present in the classroom. For better support of students who learn at home, I was creating video recordings of concept explanations using Loom (an online screen recording tool). Google Classroom and Seesaw were really useful tools that supported BL as well.
New Pedagogies in my practice
"Neither have such measures been consistently integrated in a holistic measurement system that measures pedagogical practices, student engagement, and deep learning outcomes."
Assessing and measuring the impact of deep learning pedagogies is a complex and complicated process that contains many steps and stages. I usually apply related ISTE standards to create rubric-based skills that are measured and describe all the stages of the deep learning task. I like the assessment examples described in A Rich Seam: How New Pedagogies Find Deep Learning that have been used by other schools (such as a public exhibition). For similar purpose, I would use online tool ThingLink that allows creating a virtual exhibition room, which could include students works in any format: presentations, digital images, animations, etc. – anything that can be accessed online. The exhibitions could be accessible to the school community. Community members could evaluate and share comments on students' creations on a  Padlet wall. Students could gather the comments and use them for further learning process.
In order to keep track of Lower School student's progress during the year, our teachers have come up with Self Reflection rubric of the approaches to learning. Using this document, students can successfully rethink and reflect on their achievements over the last trimester or even school year. Here is an example:
The effective new pedagogies, such as collaboration between teachers and students as well as constant communication regarding the teaching curriculum is really useful. In our school, teachers have access to the curriculum maps of each other, which allows us to plan deep learning tasks as well as projects in advance. Organizing the collaboration meeting is another useful method – teachers gather in the same room and share their teaching plans as well as topics. Sharing this valuable information with each other provides an opportunity of coming up with new collaboration ideas. This way teachers focus more on students' skills development as well as their abilities in mastering new content and creating new knowledge.
Collaboration between different grade levels improves students' communication skills. For example, at the beginning of this school year we simulated possible school closure scenario when students were collaborating online on the joint research project about the topic of their choice, working together with students from grades 3-5. During this process students communicated via the chat integrated into Google Slides. Students were searching for information online using their research skills and discussing the process via chat.
My other "project", that I am going to test out this week with my students is pair coding online. During the last several weeks students were learning how to code in the classroom and individually (as we got closed) using Hour of Code and Google CS Frist activities. Some students have demonstrated a lot of interest in these coding activities by coding on their own during free time as well. The activities include favorite characters, well known to students. Moreover, these activities allow students to learn on their own, because of well-built assignments. Of course, teacher help is necessary for the beginning of the coding unit enrollment. Students from different grade levels will be able to share previously gained coding skills online via Google Meet session in Break out rooms.
Photo by Kelly Sikkema on Unsplash
In order to support students' autonomous learning, first of all, we agree on the learning goal that students come up with. After that, we review the goals and come up with an action plan in a form of a Google Keep to-do list. The list can be edited at any time when students gain new knowledge. During the school year, we review the plan and discuss further steps that would lead to the goals that have been planned. Keeping in mind their learning goals, students can build necessary knowledge as well as analyze and reflect on gained knowledge or search for new knowledge and, finally, come up with the newly created knowledge.
Right now, I'm am participating in the PBL project with our grade 4 students. Project topic – energy/collision. Students are split into groups of four and meet virtually as a group, together with their mentors – teachers. Goal of this PBL is to create a presentation/product that would make a social impact on our community. Right before the project, together with students we were experimenting on finding the best ways to use keywords and Google search operators that would narrow down our search results and find the most relevant information, that would support the project driving question – "How does our knowledge of energy, speed, and collisions help us save lives?"
The deep learning practices in our school
AR – Our students used their knowledge gained during the "Space" unit and after more research came up with the Augmented Reality project that included presentations with voice instructions about the interaction of the Sun to Earth. Students also learned to search for images online, respecting the author rights.
Another integrated project was a "Cat Walk" by grade 3 students. They demonstrated their french knowledge by recording each other's catwalk and used their video editing skills to make a short video demonstrations with voiceovers describing the clothing items worn by students.
Developing the deep learning competencies
Creativity, communication, citizenship, critical thinking, character and collaboration are considered deep learning competencies.
Creativity is motivating me to always search and develop new ways of teaching the same concepts in a new format, as well as improve the content for students in order to make it even more attractive and easier to learn.
Communication between students and teachers in my role is essential. I must be aware of everyone's needs and to come up with the best and even more effective practices for learning and teaching. Being able to communicate in various ways and using different tools for that is essential.
Citizenship is very important. I am trying very hard to be a fair citizen of the world, who cares about our planet a lot. I think the war and military is just a waste of time and resources, that could be used for so many important purposes. Poverty should not even exist in this 21st century.
Critical-thinking – the more you develop it, the more you understand how much more development it requires.
I think I support my students in becoming deep learners by presenting a concept in a variety of different methods as well as including different attractive and effective digital tools, that are often combined together. This motivates students to seek for the best results and be active deep learners.